Shopping Cart
Your Cart is Empty
There was an error with PayPal
Click here to try again
Thank you for your business!
You should be receiving an order confirmation from Paypal shortly.
Exit Shopping Cart
The premier opera company bringing history to life in New Orleans

OperaCréole Givonna Joseph and Aria Mason, Founders
The first opera ever performed in the United States was Gretry's "Sylvain", and it was performed here in New Orleans in 1796.
From that point on, opera was a part of every day life. Whether you were a slave or free person of color, you attended the opera.
Les Gens de Couleur Libres, (Free people of color) played a great role in the orchestras of the opera houses, and concert halls. They were musicians, and composers . The first independent orchestra was formed by 100 free men of color and a few whites in 1840.
For more information of Creole Genealogy and history, go to CreoleGen
The 1838 New Orleans city directory published this image of the Orleans Theatre, along with a two-page description of the building. Attached to the theatre proper was the Orleans Ballroom, which, according to legend if not fact, was the scene of the Crescent City's famed Quadroon Balls. In later years the building, on Orleans Street between Royal and Bourbon, served as the convent of the Sisters of the Holy Family, the religious order founded in New Orleans by Henriette Delille in 1842. It is now part of the Bourbon Orleans Hotel.
[Gibson's Guide and Directory of New Orleans, 1838]
The "Theatre de Orleans", now the Bourbon Orleans Hotel, was the site of many American premieres of new opera works from Europe. It was the first theater to open the stage to people of color. Free composers of color like Edmond Dede, Lucien Lambert, and Samuel Snaer premiered their works here.

The French Opera House (now the site of the Four Points by Sheraton French Quarter) stood at the corner of Bourbon and Toulouse Streets from 1859 until it was destroyed by fire in 1919. Designed by James Gallier, Jr., the building went up in less than a year at a cost of $118,500, and for the next sixty years, it was the center of social activity in New Orleans. Not only opera was held there, but also Carnival balls, debuts, benefits, receptions, and concerts.
During the tenure of A.P. Canonge as manager, the opera house was fully integrated. People of color, slave and free, purchased tickets to the opera.
In the early 1900s Jelly Roll Morton, considered by many a founding father of jazz, was inspired to take piano lessons after attending a recital here.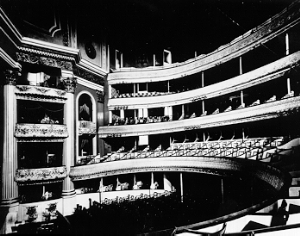 This seating plan for the French Opera House appears in a copy of the libretto of Charles Gounod's opera "Mireille". The elaborately decorated theater seated 2,078, including 500 unreserved seats in the fourth balcony. At the time, the theater was the largest in the United States. In 1919, just before the fire that destroyed it, tickets could be had for from 28 cents to $1.65 for matinees and 55 cents to $3.30 for evening performances.
For more information, go to http://nutrias.org/~nopl/exhibits/french/french.htm
Important Classical/Operatic Composers in History
Joseph Boulogne, Le Chevalier de Saint-George (1745-1799) was an important figure in the Paris musical scene in the second half of the 18th century as composer, conductor, and violinist. Prior to the revolution in France, he was also famous as master swordsman to King Louis XVI and as an equestrian. Known as the "black Mozart", he was also music director to Marie Antoinette.
Edmond Dédé, New Orleans Free Man of Color (1827-1903)

Violinist, composer, and long-time conductor in theaters in Paris and Bordeaux, France. Published "Mon Pauvre Coeur" in New Orleans in 1852. He is best known for his Quasimodo Symphony. His opera "Le Sultan d'Ispahan" was written close to the end of his life.
Eugene Arcade Dédé
Upon completion of his studies, Dede settled in Bordeaux, France. He married a French woman, Sylvie Leflet, in 1864. Their son, Eugene Arcade Dédé, also composed classical music. Eugene's mazurka En chasse (4:12) was orchestrated by his father and is included on the Naxos CD.
Charles Lucien Lambert (1828-1896), a New Orleans free Creole of color
Charles Lucien Lambert, Sr. and his half-brother Sidney Lambert, were the sons of Edmond Dede's early music teacher, Charles Richard Lambert. They, too, received their first piano lessons from their father. The compositions of Charles Lucien Lambert, Sr. have been revived by the Hot Springs Music Festival, led by Richard Rosenberg, Conductor, on Naxos 8.559037 (2000).
Lucien-Leon-Guillame Lambert (1858-1945)
Lucien-Leon Guillaume Lambert, Jr. was a French composer and pianist of African American descent. His father, Charles Lucien Lambert, Sr., had emigrated from the U.S. Lambert, Jr. was taught by his father, by Theodore Dubois and by Jules Massenet. He enjoyed success as a composer and pianist first in France and later in Portugal. His diverse output includes Prelude, fugue et postlude (6:34), which can be found on Naxos 8.559037 (2000). Lester Suliivan writes in the liner notes:
The young Lambert's Promethee enchaine won the Concours Rossini in 1885.
"Kudos to Givonna Joseph and OperaCreole! We asked the OperaCreole ensemble come on as the musical guests on a live late night talk show which features New Orleanians. Hearing ..."
Cassandra Snyder
Co-Producer, The Good NIght Show with John Calhoun
/